(some of my dolls sharing a secret<3)


Sometimes, I feel silly dressing up in a town were every else looks like a slob and no one will ever understand what I'm doing. But then I remind myself that I'm not doing this for those losers, I'm doing it to reflect how I feel the inside; to make my self confident and happy.

Something exciting has happened! I've bought my first brand lolita JSK! It'll be here in a few days X3 It'll be a surprise till then~

Anime Next is this weekend! I'm debating whether to go to the official lolita tea party or just cosplay...

I bough a Monster High skirt from Justice and just had to show it off ;0; I love it so much! It's got built in shorts so you don't flash anyone heehee I find that clever. As a tall girl, I have to worry about my short skirts some times. My only quibble is that the shorts feel sort of like a swimsuit. Even though Justice carries girl's sizes, I got the 18 and it's perfect (my wast is 71cm).




And now I would like to review the blouse I am wearing in the picture!

Site: http://www.etsy.com/shop/CyanideSweetheart
(On vacation this month.)

Payment method: Paypal (as always with Etsy)

Shipping: USPS from California (Purchased May 28, arrived June 06)

Overall: 10/10

Website: 10/10 Etsy is great.

Items: 10/10

Shipping: 9/10 (felt a little slow, did not share tracking number)

The print is bold and clear and very professional. The sizing on the item page is so-so. I order medium but I think a large would've been better. It's tight on my shoulders. Over all, very cute. I plan it wear it with lolita skirts to make a casual punk outfit.

And I also have a review of We Love Colors tights!
One of the things I want to do in this blog is present things from the point of view of a taller girl, in order to other tall girls pick clothes that fit :)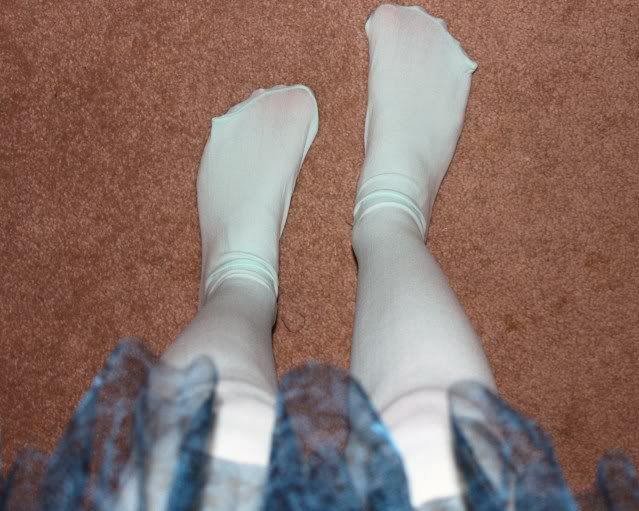 Site: http://www.welovecolors.com/Default.aspx

Payment method: Credit only

Shipping: USPS from Florida (took a month to make and arrive)

Overall: 10/10

Website: 10/10

Items: 10/10

Shipping: 10/10

First of all, I was a little disappointed with the making time. I ordered an out of stock pair and it took a month to make. I was starting to worry. Keep that in mind if you want an out of stock item. Once the item was shipped, it came very fast. If you only order one pair, I wouldn't recommended to upgrade to priority because standard was very fast. I ordered Pastel Mint and the color is very true. I am 5'7 (170cm) and I ordered the tall size. It's wonderful! I don't need to stretch the tights at all! Very true fit. Overall, these tights are perfect.