I've been putting this off for too long.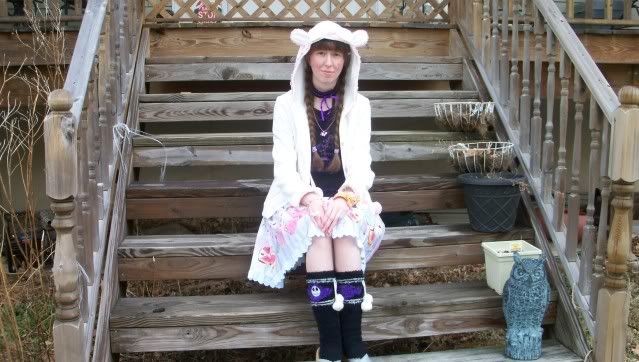 Internet name: Sora
Age: 22
Location: Hudson Valley, NY (the place were even the lolitas and BJD fans keep to themselves! No fun to be had out here)
Height: 5'7
Weight: 115 (if you are as tall as I am, don't try this at home, kids)
Relationship: Searching for the prince <3
Styles: Fairy, lolita, dolly
Fave brands: Putumayo, Innocent World, Nile Perch, certain Etsy shops
Favorite color: Purple
Likes: J-fashion, anime, dolls, anything '80s, cats, fairy tales/fantasy
Fun fact: I dislike pink!
Dream: Visit Japan.
Personal motto: No matter what you are doing, pretend it's perfectly normal.
I've been interested in lolita since 2007, but only started dressing it in 2010. I began dressing dolly and fairy in 2011.
Even though I run a blog where I share pics of myself alot, I'm actually very self conscious. I've never even been asked out, so I feel like I must be terribly ugly. It's very difficult for me to get past that. I hope someday, my prince shows up to save me from myself <3
Anything else you want to know? Ask me! I'm not terribly private.